SuperC - The Ultimate Video Player & Encoder?
I guess I should be writing for hours about this topic but I won't. The reason is that most video encoding freaks will search for such tools and read the entire official mumbo-jumbo before bothering with it while most regular computer users simply need something that works. For them programs like VLC SPlayer or even Winamp are more than enough... at least most of the time. No matter what kind of user you are it seems there's only one program that seems to be able to play virtually any file format you can think of - its name is Super© also known as Super(C) or just SuperC (I will use this one from now on).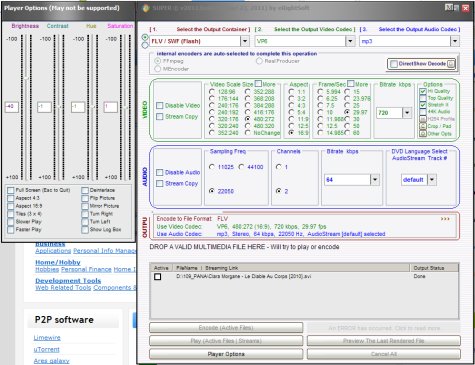 SuperC may look like hailing back from the middle 1990s and have a rather silly website but fortunately the program itself seems to get the job done pretty well. On the other hand as I see it SuperC has a huge problem for people really into encoding - it simply can't use multiple CPU cores properly not to mention the fact that it doesn't offer any support for GPU encoding/decoding either. The good part? It seems to support all file formats you can think of as I was saying earlier of course!
On the other hand SuperC only seems to support FLV and SWF as output formats but at least you got a lot of settings to mess with before starting such a job. Since downloading and trying SuperC won't cost you a thing I think you should give this program a chance - in fact if they would just add support for the capabilities of the modern GPUs and CPUs and push the interface closer to 2011 I think that SuperC could become a serious threats to VLC Mplayer & the others. Seriously! If you don't agree with that just take it for a spin and drop your opinions below all right? That's all for now!