Play Any Media File with Windows 7 Codecs v2.8.5
Windows 7 Codecs v2.8.5 is a complete codec pack for Windows 7 users. The codec pack can be downloaded from the official website and is a freeware. Although Windows 7 codec pack does not install any media player as it does not have one neither does it modify any file type or change the icons of media files. Instead the codec pack is fully compatible with all the media players that can be downloaded or which are built-in in Windows 7. This means that after installing Windows 7 codecs users can download and install any media player and the player will use Windows 7 codecs to play any audio or video media file. The application is developed for Windows 7 users irrespective of the versions and flavors of the operating system that users may have (x86 and x64).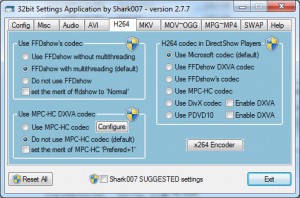 Pros
After the application is downloaded and installed on Windows 7 computer entire functioning of the software is completely transparent to the users.
The application is lightweight and therefore it does not consume additional processing or memory.
Entire codec pack when installed provides several file formats compatibility programs which users can add or remove as per their requirements.
Cons
Windows 7 codecs is only compatible with Windows 7 operating system and in case users want to use codecs for legacy versions they need to download a separate copy that is precisely developed for those operating systems.
Download Link: http://www.majorgeeks.com/downloadget.php?id=5959&file=15&evp=69519f031a0550d7faae74536523f7ee