Prizes.org Is Waiting For YOU!
If you ever had the strange idea that Google is sleeping you'd better erase that from your mind - Google is always cooking something no matter if it survives long enough after seeing the light of day to become a successful project or it doesn't. Prizes.org this article's main topic is an online service that's still in Beta stage works like Yahoo! Answers with a twist (just my opinion if you think that's wrong feel free to drop a comment) and was developed by Slide a part of Google Inc. While it was released in silence it looks like a pretty good idea to me so here it is!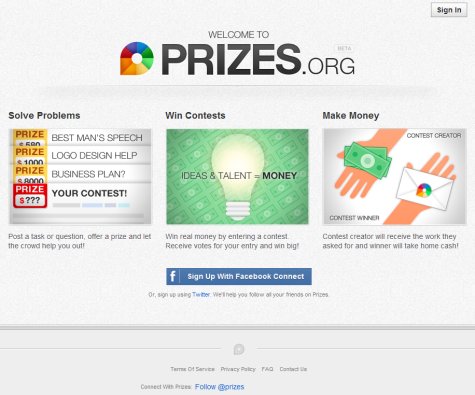 Since I just said that Prizes.org is like Yahoo! Answers with a twist here's what this twist is all about: money! The idea is pretty simple - you ask a question get some answers then award a cash prize to the answer you consider to be the best one. I don't know about you but this one surely looks good to me! Strange enough it doesn't work with your Google account - you have to use Twitter or Facebook credentials to get a Prizes.org account. Well... I guess you can't use the Google credentials for everything after all - even when talking about a service that belongs to Google... ;)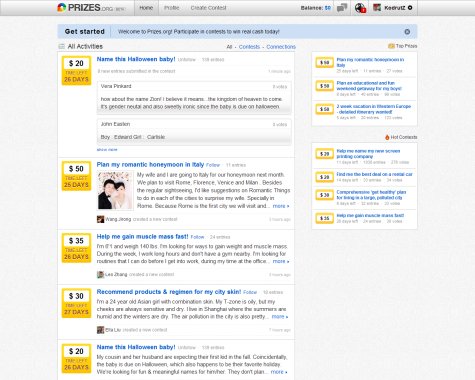 Other than the above I don't think there's much to be said about Prizes.org - since creating an account and answering questions is completely free. Sure the Create Contest page currently says "Contest creation is by invitation only right now but we promise to open it up to everyone very very soon!" for now but there are a lot of alternatives available if you have a burning question - call a friend ask on Yahoo! Answers look for it on Google... so just keep in mind that Prizes.org Beta or not is waiting for you and in the not-so-distant future it could help you earn some beer money from time to time. That's all folks!