ProcessKO: Free Process Manager
ProcessKO is a free system process manager for managing hanging or running process quickly. This freeware is designed for experienced and skilled users with good PC using skills. Let's see if professionals or experienced PC users find this tool useful or not.
Sometimes we face some tools that stop functioning or not close properly and continue to consume resources. Some of us might call the Task Manager for help but it can be a long process as you have to press CTRL+ALT+DEL click on Process Tab look for the process you want to remove and then click "End Process". But you are not done yet as you have to confirm if you are really want to remove that process or not. So if you want to cut this process short and want to end a process immediately when facing problems ProcessKO is what you are looking for.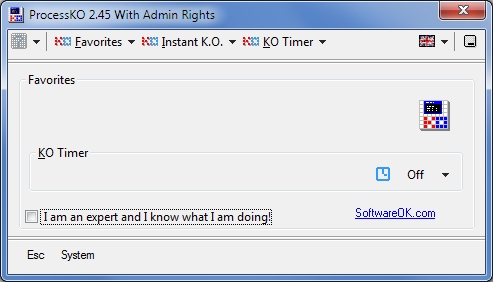 This free process manager comes with a very easy-to-use user interface. You can easily start ProcessKO and kill a process easily. You can also restart the same process from there if you want. This free system resource manager does not require any installation and can be launched right from your desktop. As this freeware is portable you can carry it with you on a USB device.
Features of ProcessKO:
Terminate a process quickly
Restart a process from where it was
Portable Simple and easy-to-use
ProcessKO can be downloaded from SoftwareOK's website. It's only 70.4KB in size and supports Windows 98 or higher. Try ProcessKO Free