Promote Your Website Easily with Traffic Travis
Traffic Travis is a free SEO tool that helps you to promote a particular website using search engine ranks optimization. This freeware works as a powerful free internet research tool with great instructions for promoting a website. If you own a website and don't know much about SEO Traffic Travis can be a great option for you for promoting your website.
There are many new website owners out there who don't have any idea about SEO and want to promote their website. Finding keywords manually and analyzing backlinks can be very difficult and requires a lot of time. If you are not ready to spend a lot of time for promoting your website and want to use a software for promoting it Traffic Travis can help you. This free website promoting tool can check your website and see if it needs any improvement.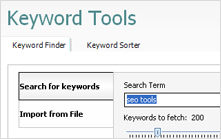 This free SEO management tool comes with very professional looking interface and the graphic design is very attractive. The intuitive navigation system makes it easier for you to use this freeware. But if you are still not sure how to use this freeware you can check out the helpful tutorial videos. This free SEO software will collect necessary data at first and then do some research on your preferred website. This freeware will also show your site's ranking which is another attractive feature of this freeware. You have to register online at first for using this freeware. Other attractive features of this freeware are finding profitable PPC keywords track movement in the result pages analysis tools etc.
Features of Traffic Travis:
Promote any particular website easily
See your web site's ranking among four top search engines
Check score for your SEO efforts and know what improvements are required for promoting your website
Traffic Travis is available for download at Traffic Travis's official website. It's only 6.05MB in size and supports Windows 7 Vista XP and 2000. Try Traffic Travis Free