Optimize Your Internet Connection with SG TCP Optimizer
SG TCP Optimizer is a free internet tool that helps you to optimize your internet connection. If you are looking for a powerful free dial-up software for optimizing and improving your internet connection speed SG TCP Optimizer is the best software for you.
This freeware helps you to tune your slow internet connection. But you should know that this freeware should be used by expert users. There is a simple Windows registry editor RWIN value figuring calculator and a latency test available in this freeware. But you won't be able to use this free internet optimizer if you don't have any idea about these tools. If you are going to optimize your internet connection for the first time and have some idea about these tools there are short tutorials available in the freeware to help you.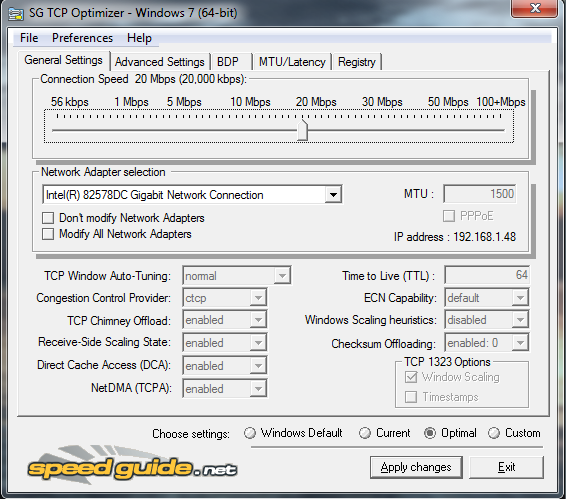 Like I mentioned earlier this program should be used by experienced users and people who knows about these things. You have to edit Windows registries properly for improving your internet connection speed. You can easily backup the default settings and restore them if things go wrong. Novice people shouldn't use this freeware as some changes can cause serious problem in your PC if altered. Overall it's a small powerful free internet connection optimizer that will be loved by system administrators.
Features of SG TCP Optimizer:
Tune and optimize your internet connection
Find the best RWIN and MTU values
Tweak your internet connection related registry files and test latency
Optimize any kind of internet connection including DSL Dialup Satellite and cable internet connection
SG TCP Optimizer is available for download at SpeedGuide's official website. It's only 644KB in size and supports all versions of Windows starting from Windows 95. Try SG TCP Optimizer Free