Protect Your Computer for Free with Windows Defender
Windows Defender was first introduced with the official release of Windows Vista and was helpful in finding out and removing potential spywares from the computer systems. Since the application is built-in and ships along with Windows Vista and Windows 7 operating systems it is absolutely free of cost. However the built-in version might sometimes be found obsolete and therefore the recent version can be downloaded separately from the Microsoft's official website. Windows Defender is also downloadable from various other downloading sites. The application is small in size which makes it lightweight and also it does not consume extra processing speed of a computer system. Since it works in the background users are never obstructed while working on their desktop computers or laptop PCs.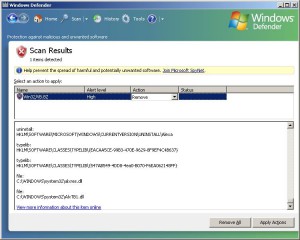 Pros
It is a free tool and can be downloaded from anywhere.
It works in the background and scans everything real-time. This means that spywares cannot enter your system.
The application is automatically updated as soon as the computer is connected to the Internet.
Cons
Scans and protects your computer only from spywares.
Does not work as a full-fledged firewall or anti-virus application.
Regular updates for the application are required to keep the definitions up to date.
Download Link: http://www.microsoft.com/downloads/en/details.aspx?FamilyId=435BFCE7-DA2B-4A6A-AFA4-F7F14E605A0D&displaylang=en&mg_id=10134