Free Antivirus from Microsoft
Microsoft Security Essentials is an application which works as an antivirus for Windows Vista and Windows 7 architecture based operating systems. Since the software is developed by Microsoft itself it gets tightly integrated with the operating systems for which it is developed. Security Essentials automatically updates itself directly from the Microsoft update server on regular basis. The best part is that this antivirus application is absolutely free of cost and is easily downloadable from the Microsoft's official website. Small Google search will give you the direct link to it. Below are few pros and cons which will help you in choosing Security Essentials to suit your needs to the best.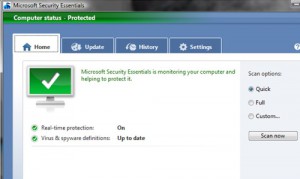 Pros
Not very large in size and easily downloadable.
Compatible with both 32-bit and 64-bit operating systems.
Online technical support available.
User experience information can be sent to Microsoft in case any error occurs while using Security Essentials.
Cons
Only compatible with Windows Vista and Windows 7 architecture operating systems and overlooks legacy versions of Windows.
Can only be installed on licensed version of Windows. This means that people who are using unethical or pirated copy of Windows will not be able to download and/or install Microsoft Security Essentials on their computers.
Since regular updates are required for Security Essentials users need to stay connected to the Internet throughout the time they use their computers.
Download Link: http://www.microsoft.com/en-in/security_essentials/default.aspx