Rapidshare Alternative Of the Week - FILE.am
Finding a good RapidShare alternative seems to be getting more and more like a blind hunt because I end up facing sites that don't work as they should more often than I think it's normal. For example yesterday I found a great file uploading service that allowed its free users to hotlink files the maximum size was decent there weren't many ads on the site and so on. The name doesn't really matter - maybe it was just a temporary problem but I simply wasn't able to create an account so I jumped it and landed straight into FILE.am's court where everything works as it should...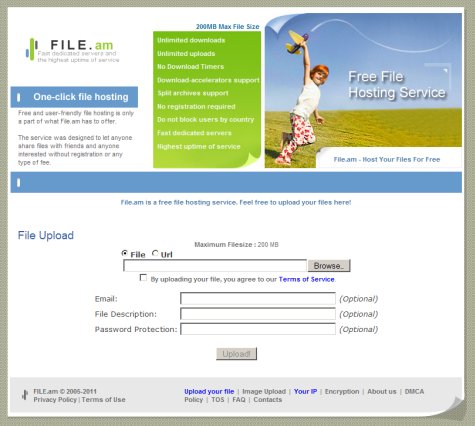 ... so let's take a quick look at what you'll get from this file uploading service simply known as FILE.am: file sizes allowed go up to 200 MB there's no need to create an account - there are no user accounts available at all in fact your files can be downloaded by the entire population of a small country without any problems (according to the FAQ FILE.am currently holds "files which have been downloaded more than a million times" so...) both upload and download speeds are good so I can dare to say that FILE.am is one hell of a service.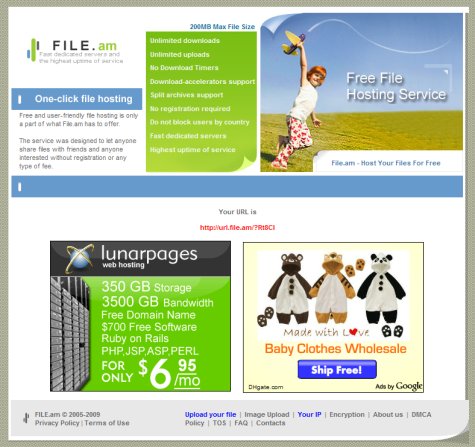 Other than the above I think I should also add that FILE.am could improve its design a bit and most important part of it all I would gladly pay to see those damn Google Ads go away! Well I guess I could also block those ads and keep my money after all. Oh yeah one more thing... in fact two: FILE.am also offers a dedicated image upload service and a Web-based text encryption tool. Pretty cool if you ask me... and that's all for today. Bye-byeee! ;)