Two Android Themes For Chrome
After using two different Android tablets for a few months already I must say that Google's mobile operating system has its highs and lows. I don't know about others but my worst Android problem is its lack of reliability (I know it's more about the devices than the OS itself but still... even Windows XP is more stable than Android to me as I write this). On the other hand I enjoy the looks of this operating system a lot so I was really happy to discover two Android-like themes for Chrome the first of them having a 2.x look & feel and the other's name saying it all: Honeycomb Theme!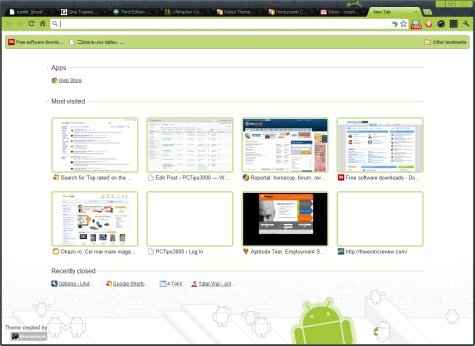 First Chrome theme I have to tell you about today is called Robot Theme and its numbers should say it all: this Android-inspired theme has a rating of 4.8/5 stars after 4303 user reviews and no less than 182150 downloads version 0.2.2 being released on the 28th of April. To make it all even better Robot Theme matches perfectly the looks of the Gmail Android theme available in your Gmail Settings> Themes section. Priceless!!!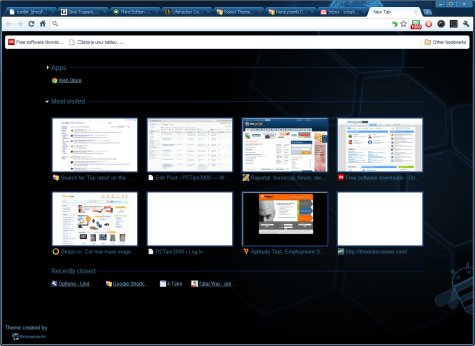 From the same author comes the excellent Honeycomb Theme a more recent Chrome theme (at least that should be true for the original versions of these themes since the last one is older than Robot Theme 0.2.2) but still able to display some solid numbers: version 0.2 arrived on the 24th of February and currently has an average rating of 4.72/5 stars after 821 user ratings and 60946 downloads.
Obviously both these Google Chrome themes are completely free and... I guess there's only one way for you to tell if they're the right thing or not - take them for a test drive of course! That's all folks - have a great weekend and be safe! ;)