Rapidshare Alternative Of the Week - FileServe
Nothing seems to be as it should today - weather sucks big time I feel pretty cold I didn't get any interesting email so far and worst of all I bumped into a lot of shitty RapidShare alternatives. Fortunately FileServe is a decent online service from that category so we'll talk about it in just a few moments. Before that I really have to ask myself a rhetorical question: how is it possible for Google to allow sites that offer a maximum file size of 1 or 2 MB appear in the first 10 results pages when I look for a RapidShare alternative while its own free email service allows attachments of up to 25 MB???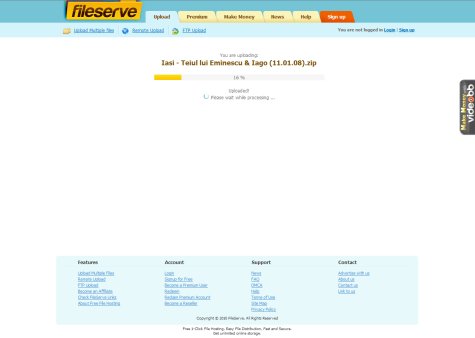 Looking at FileServe from a totally free user's perspective that doesn't need an account only to upload some files there's nothing to make it better than RapidShare but it's not much worse either - after all you get a 1 GB file size limit and up to 60 days to download the files you uploaded until they get automatically removed from the servers all these without bothering to create a free account! On the other hand free and paid accounts can give you access to a bunch of interesting features but to me the Premium plans seem too expensive. Sure it may be just me so feel free to take a look at the plans you can get - click here.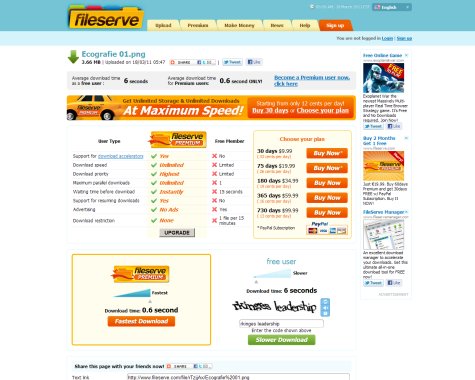 Now let me tell you a few words about my experience with FileServe - I hate ads captchas and countdowns! Unfortunately this RapidShare alternative has them all. The good part of the story is that upload and download speeds are both above average and in case you really share files a lot and want to earn a few extra bucks you'll be delighted to take a look at the money making possibilities offered by FileServe - just take a look here. Other than the above there's not much to say - just be sure to have a great weekend and in case you really enjoy FileServe get back here and drop a comment all right? That's all folks! ;)