Rapidshare Alternative Of the Week – Nakido
I'm feelin' lucky today. Sure I didn't win any contest or found a wallet full of money but finding a Rapidshare alternative like Nakido is more than enough to make me call myself lucky trust me! Well you don't have to take my word for granted obviously - we'll take a quick look at Nakido's highlights and you can decide if it's worth checking out or you can simply forget about it and stick to your favorite file upload service so let's get down to business shall we?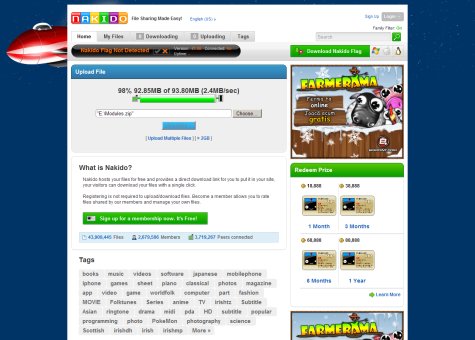 Without creating an account you can easily use Nakido to upload/download files without having to enter captcha strings or wait for countdowns to finish. Sure the site may be having some ads on it but I think one can live with that. I uploaded a file having about 100 MB in size and then I downloaded it - everything went fine and speed was better than I expected since I did everything without using Nakido's upload/download manager and without signing up for a free account!
Since I mentioned it you should know that Nakido Flag is an utility that will surely make your life easier especially since it's available for Windows Mac OS X and Linux and using it is really easy. More than this you can also enjoy the Nakido Coins reward program and the ability to browse/download files uploaded by others although some of these files may only be available for download to VIP users... most of the files I checked unfortunately but not of them so we're not talking only about a way to make you get a VIP account!
Without creating an account the maximum file size is 2 GB which is really generous. Other than all these facts I mentioned... no matter if you're looking for a Rapidshare alternative or not I think Nakido is definitely worth a try and that's it! ;)