Remove Sensitive Data Completely with Eraser
Eraser is a free security software that helps you to delete sensitive data from your PC in a smart way. This freeware will overwrite the same data several times by following selected patterns. If you are looking for a simple free file removing utility to remove sensitive data from your hard disk Eraser is the best option for you.
This free file utility offers a comprehensive data erasing solution. If you have some sensitive data stored in your hard disk and you want to delete them safely from your hard disk you can try Eraser. This freeware will use different removing patterns including Peter Gutmann's paper secure deletion methods defined in the National Industrial Security Program Operating Manual of the U.S. Department of Defense. In this way you will be able to delete important data from Solid-State memory or magnetic memory easily.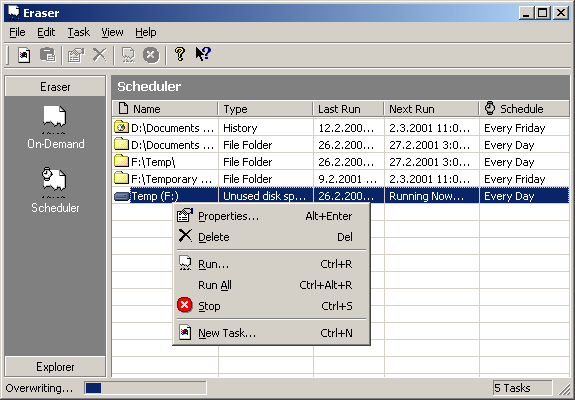 This free file remover is very easy to use and is very effective for deleting files. You can also think about trying this freeware if you want to free up some space in your hard disk. You have to run the software with administrative privileges to allow this freeware to delete sensitive data and files from your PC. You can also remove files that have been damaged by a virus using this freeware.
Features of Eraser:
Remove sensitive data from your hard disk smartly
Remove data using different patterns
Eraser is available for download at Eraser's official website. It's only 8.76MB in size and supports all versions of Windows. Try Eraser Free