Remove Unwanted Programs from PC with PC Decrapifier
PC Decrapifier is a free system utility that helps you to remove unnecessary programs from your PC. It's a portable software uninstaller that can be used from hard disk without installing. It will scan your hard disk for searching unwanted programs and junks and will remove them completely if you agree. It's a great software for people who wants to remove unwanted apps from their PC.
You can remove the annoying software that is installed with your new PC. If you don't have any unwanted program in your PC this software won't find any program. It can also create system restore points if you want to roll back changes after installing any new program. It will also show all the software installed in your PC if there is no unwanted programs installed in your PC. If you bought a new PC you might get a bundle of apps with it and most of them are in trial versions. They don't have to offer much but takes a lot of space. If you are tired with these apps this free software uninstaller is what you are looking for.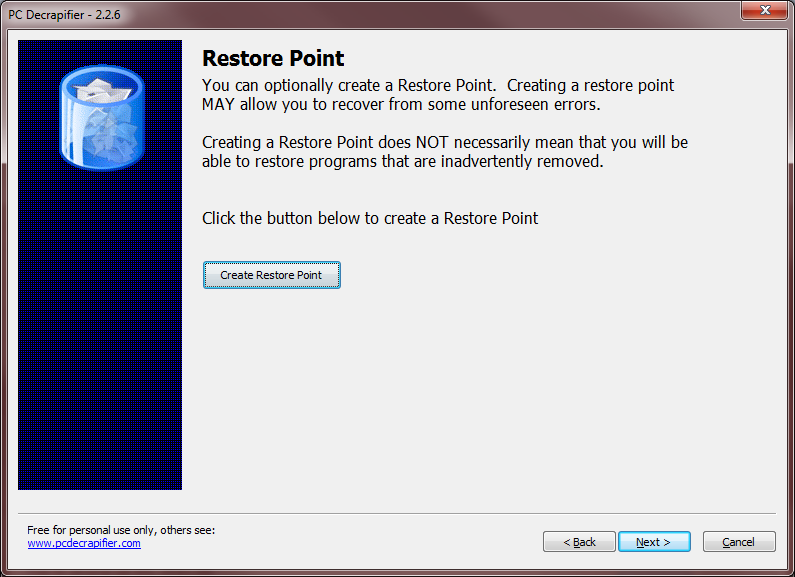 PC Decrapifier comes with a simple user interface. You will be able to improve your PCs performance by deleting unwanted apps and even security. As it's free you can always think about running this app to see if there is any unwanted app installed in your PC.
Features of PC Decrapifier:
Remove unwanted apps from PC
Create restore points
No installation required
PC Decrapifier is available for download at PC Decrapifier's official website. It's only 1.29MB in size and supports Windows 7 Vista and XP. Try PC Decrapifier Free