TrueSafe Personal Edition: Free Backup Software
If you are worried about your PCs safety but don't know what to do TrueSafe Personal Edition is what you are looking for. This free backup software is getting popular among people for its simplicity and user friendly interface. Once you start using this freeware you can expect to get protection against accidental deletion and corruption of files.
With the help of this free backup software you can create backup of your hard disk data portable storage and network shares. Moreover if you want to receive a notification when the backup creating process is complete it can send you e-mail notification. It's specially designed for those people who don't want to face any backup creating problem. Just launch the program start creating backup and forget about the backup creating hassles. If you want to create backup online it also supports creating backup on online storage.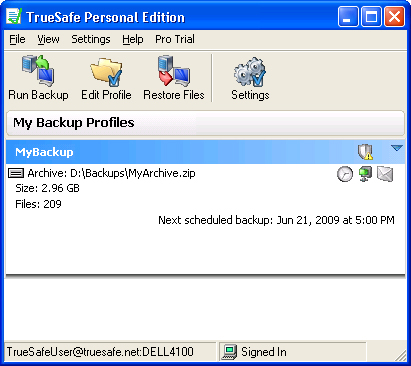 When you launch this freeware for the first time you will have to register online to enjoy their online features. Don't worry as the registration process is quite easy and painless. You can perform different backup process with this free backup software. Once you create a new profile you have to follow a four step process for creating backup. It's a really great software for those who don't want to lose any file.
Features of TrueSafe Personal Edition:
Create backup of your data stored on network share hard disk and portable storage
Create backup over the internet with secure online storage feature
Receive notification via e-mail when the backup process is done
TrueSafe Personal Edition is available for download at QPointSoft's website. It's only 15MB in size and supports Windows 7 Vista XP Server 2008 Server 2003 and NT. Try TrueSafe Personal Edition Free