Rename Image Files Easily With Image Renaming
Image Renaming is a free digital photo software that helps you to rename JPG image files according to their time and date. If you own a digital camera and want to organize all your pictures nicely after downloading them from your camera Image Renaming is the best option for you.
Almost all the digital camera owners know that organizing images after downloading them from their camera can be really difficult. They are automatically given some weird names with numbers or letters that are hard to understand. That's where this free image renamer comes in. You can rename a large number of files using dates or words that can express the images properly. Image Renaming is not the best software out there to do this task but you will this freeware useful.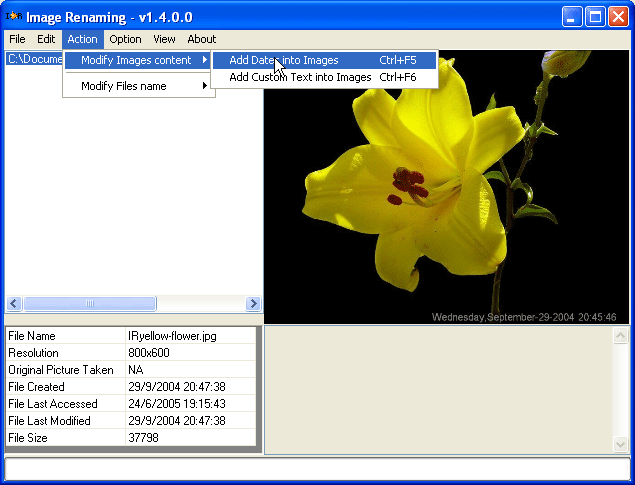 The user interface of this free file renaming utility is nothing attractive you will find a big gray screen there with four rectangles. You have to select the images that you want to rename first and then start doing your job. You can also think about dragging your images to the interface of this free image renamer tool to start renaming. You can insert custom text date or file name inside the images. Another attractive feature of this freeware is you can add watermark to your images.
Features of Image Renaming:
Rename JPEG files based on different time and date criteria
Add custom text date and other things into images
Add watermark to your images
Image Renaming is available for download at Bassita's official website. It's only 53KB in size and supports Windows 98 or higher. Try Image Renaming Free