Lock Your PC Easily With Smart PC Locker Pro
Smart PC Locker Pro is a free security software that helps you to lock your PC when you are away. If your computer is placed in a public place where anybody can start using it when you are away you should try Smart PC Locker Pro.
You can prevent other people's access to your PC when you are away using this freeware. It can be really disturbing for you to think that other people access to your files when you are away. And if you want this to stop Smart PC Locker Pro is a really good software to do that. This free PC locker uses very little resource when running and won't affect your processor. You can lock your PC with a password and only people who know the password will be able to open your PC.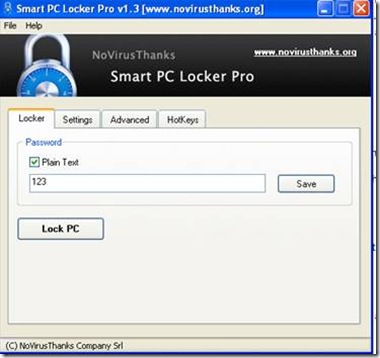 This free PC locking software is very easy to use and comes with an attractive user-friendly interface. You can download the portable version or the executable installer from the official website. You can start the software everytime you start your PC and assign hotkeys for locking your PC easily. You can save a password for locking your PC and you are ready to lock. You can also tell this freeware to shut down your PC after a specific time.
Features of Smart PC Locker Pro:
Lock your PC easily
Use password for locking your PC and only people with passwords will get access to your PC
Assign hotkey for locking your PC
Smart PC Locker Pro is available for download at No Virus Thanks website. It's only 794MB in size and supports Windows 2000 or higher. Try Smart PC Locker Pro Free