Save Usernames and Passwords: Free Password Manager
Save Usernames and Passwords is a simple free password manager for those who wants to store their strong passwords in a safe place. People are now aware of the importance of choosing strong passwords and these passwords are very easy to forget. If you are also facing the same problem and don't want to forget your important passwords Save Usernames and Passwords is the best option for you.
This free password management software comes with all the basic options that you expect to see in a password manager. You will be able to save all your usernames passwords login URLs and other necessary information related with your email Internet and other online accounts. You can also encrypt your passwords to save them from others. All the encrypted information can be accessed with this freeware only. Moreover you can set an entry code for this free password manager to protect access from other users.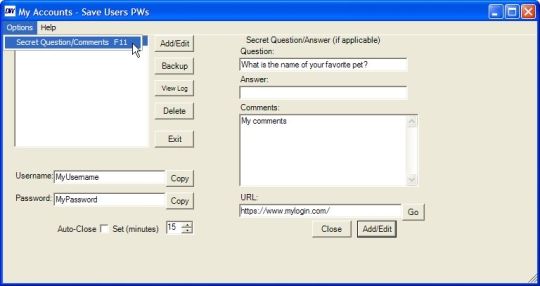 This free security software comes with a simple plain user interface. You have to select a password for this freeware first to protect access and then you can forget all the other passwords. There is an add/edit button for adding account and passwords or for editing them. All your information will be displayed as a list and you can access to them easily. You can also generate random passwords with its built in password generator which means this software also works as a free password generator.
Features of Save Usernames and Passwords:
Save and manage all your important usernames and passwords
Protect access by choosing a password for this software
Create random passwords with password generator
Save Usernames and Passwords is available for download at DenWeb Development's official website. It's only 255KB in size and supports Windows 98 or higher. Try Save Usernames and Passwords Free