Winyl: Fast, Simple, Free Audio Player
Winyl is a new free audio player that comes with an attractive user interface and media library support. This freeware is simple fast and completely customizable. If you love to try new media players or want to get a simple fast skinnable audio player for your PC Winyl is the best option for you.
There are lots of audio players out there and Winyl is also not offering any new feature but the user interface of this free audio player is what makes this player different. You can listen to the music you want rate them and select your favorite songs create playlists and perform all these actions easily in Winyl. All your audio files will be nicely organized into categories by this media player and you will get an organized library inside this free audio software.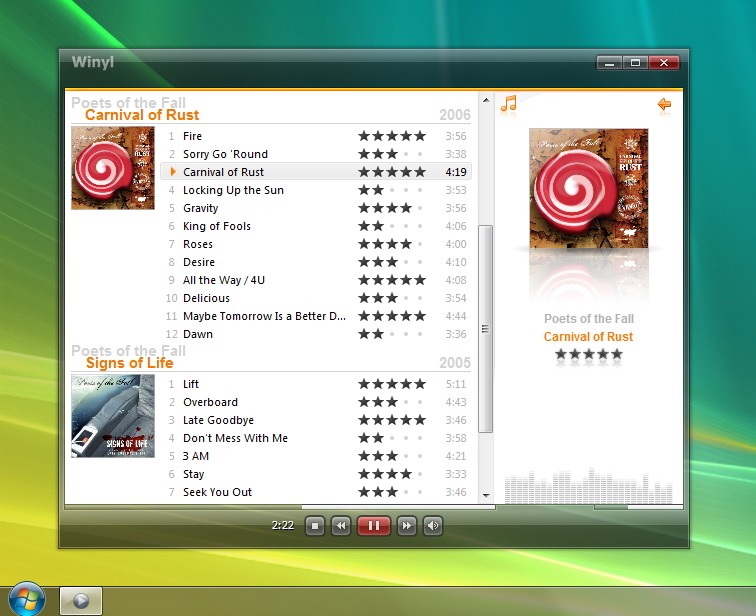 Like I mentioned earlier the user interface of Winyl is very attractive and easy to use. This free media player uses very little system resource while running and works fast. You can also get access to various internet radio stations using this freeware. There is an optional pop-up window that can display the song's artist and title if you activate it. There are six attractive skins available with this freeware. The installation process is very easy and the installer comes in a ZIP file.
Features of Winyl:
Simple fast audio player with attractive interface
Organize your music in a smart way
Get access to various internet radio stations
Winyl is available for download at Vinyl Software's official website. It's only 2.64MB in size and supports Windows XP Vista and 7. Try Winyl Free