Schedule Windows Shutdown with Auto Shutdown
Auto Shutdown is a free shutdown utility that helps you to shut down your PC automatically. All of us face a situation in our life where we wait for a process to finish so that we can shut down our PC. If you are looking for a freeware to schedule your shutdowns easily Auto Shutdown is the best option for you.
This freeware helps you to schedule your shutdowns so that you can turn off your PC whenever you want. You can also define different shortcut keys in your keyboard for different shutdown actions like hibernate log off stand by restart and turn off. If you don't turn off your computer for some reason and you do know that your PC should be turned off for some time you can use this freeware. You can schedule the tie when you want your computer to shutdown or restart automatically and this freeware will do the rest.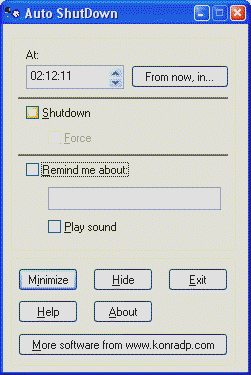 This free auto shutdown software comes with a simple easy-to-use user interface. It's not a multifunction software but can help you to schedule your shutdowns easily with its customizable scheduling settings. You can set the shutdown action you want to try standby turn off and restart and set the time and this freeware will handle the rest. You can set your preferred action in a specific time day week or even month. The only negative side of this freeware is there is no negative side inside the software.
Features of Auto Shutdown:
Schedule shutdown in the way you want
Define keyboard shortcuts for different shutdown actions
Auto Shutdown is available for download at Konradp's official website. It's only 574KB in size and supports all versions of Windows. Try Auto Shutdown Free