Search and Locate Wireless Network with Xirrus Wi-Fi Monitor
Xirrus Wi-Fi Monitor is a freeware Windows 7 and Windows Vista gadget that can be downloaded from the official website. The application is capable of sniffing any available wireless network configured around within the range of the wireless LAN card integrated in the laptop or desktop PC. The gadget also identifies the type of security which is implemented in case the wireless LAN configured using infrastructure topology. This application is mostly used by the people who are into moving profession like sales executives marketing managers etc. With the help of this gadget these people can search and connect to the available networks while they are on the move.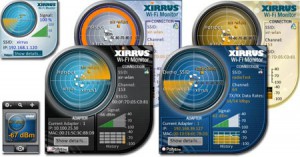 Pros
The application is free to download and install and does not require any registration or payments to be made.
Gets tightly integrated with the drivers of wireless LAN card attached to the desktop or laptop PCs to provide the maximum output.
It remains on the desktop sidebar of Windows Vista and Windows 7 and therefore it never obstructs any tasks that users perform while working on computer systems.
The gadget also displays the IP and MAC address of the PC on which it is installed.
Cons
Bunch of information that is displayed on Xirrus Wi-Fi Monitor might be un-understandable non-technical/home users.
Download Link: http://www.xirrus.com/library/wifi_download_redirect_gadget.php