SMPlayer Portable: Free Media Player
SMPlayer Portable is a free media player that can play almost any audio and video file without using any external codecs. If you want a simple player that does not installs external codecs for playing different audio and video files SMPlayer is exactly what you are looking for. Let's see if this freeware is good enough for replacing your current media player.
If you love watching movies or other video files in your laptop or netbook you might want to avoid using too much external codecs in your device. Moreover it's also not a good idea to install different media players for playing different media files. That's where this free powerful media player comes in. This freeware can handle almost any video or audio player you want to play. This freeware also supports MPlayer filters which is a really attractive feature of this freeware.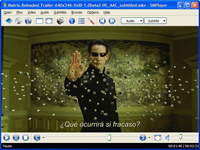 This open-source media player is really easy to use and comes with both basic and advanced features that you expect to see in a good media player. Moreover it's portable which means you don't have to go through any installation process for using this freeware. If you have used the normal version you won't find any changes in the interface of this portable version. Another attractive feature of this free media player is if you stop watching a movie for some reasons and open that movie again after some time you can start watching that movie from the same point with the same audio subtitle volume settings you used before.
Features of SMPlayer Portable:
Play almost any media file without installing any external codec
Simple easy-to-use portable
Supports MPlayer filters
SMPlayer Portable can be downloaded from SMPlayer's website. It's only 13MB in size and supports Windows. Try SMPlayer Portable Free