Remove Blemishes From Photos With Photo Blemish Remover
Photo Blemish Remover is a free image editing software that helps you to remove small stains blemishes and other imperfections from your images. This free blemish remover can match the texture shading or lighting of the image or place you are trying to fix and help you to remove blemishes. Let's see what this freeware has to offer.
It is not easy to remove occasional skin blemish from our face but that does not mean we will want these imperfections to ruin our beautiful images. So if you want to remove blemishes from your images Photo Blemish Remover is exactly what you are looking for. You can easily remove stains blemishes and other small objects from your images or image's subject using this freeware. But if you want to remove a big stain or blemishes you are going to be disappointed.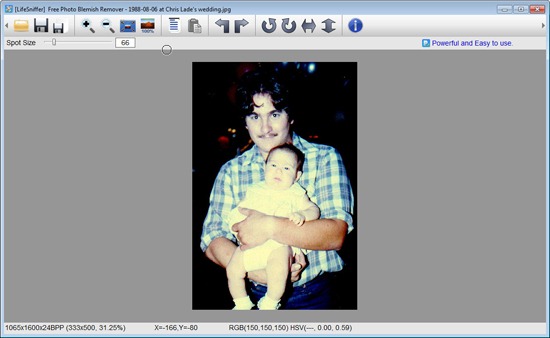 This free image blemish remover comes with a simple straightforward user interface. You will find buttons on top of this freeware that displays the features included with Photo Blemish Remover. At first you have to select the blemish you want to remove. You can remove a pimple stain or other similar thing using this freeware. This freeware will clone a nearby pixel that matches with your skin to replace the blemish. It works nicely with small blemishes but don't try to fix a large area.
Features of Photo Blemish Remover:
Remove stains blemishes and other imperfections from your images
Automatically clones nearby pixels for replacing blemishes and stains
Simple easy-to-use user interface
Photo Blemish Remover can be downloaded from Photo Toolbox's website. It's only 2.85MB in size and supports Windows XP or higher. Try Photo Blemish Remover Free