Social Friend Finder (SFF)
While Google may be great for some tasks specialized search services and addons usually get the job done much better so I was pleasantly surprised to discover this Firefox addon we have here today known as Social Friend Finder (SFF). I am not crazy about making any new friends online but I often check what's up with the people I know so SFF seems like a pretty good tool to use for that...

... since the official mumbo-jumbo around it goes like this: "Social Friend Finder gives you the opportunity to search people names simultaneously at Facebook hi5 MySpace Twitter Google Profiles diigo Plurk and brightkite. Just highlight the name you want right-click and select "Search social networks" from the context menu. You can choose between three ways of result presentation. In order to see results for twitter you have to be logged in. If you aren't you will be redirected to the results page as soon as you sign in."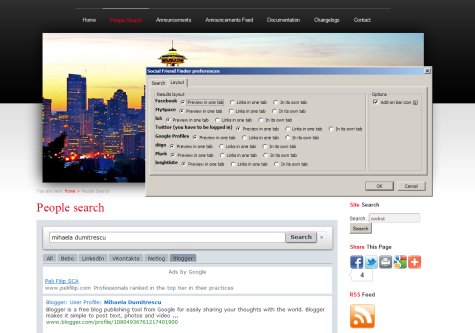 Last updated on the 24th of May SFF is now at version 1.2 works with Firefox 1.5 - 4.0.* and has been downloaded 5707 times already. Unfortunately it has no user ratings yet. The site dedicated entirely to it can be found right here and if I really had to give it a rating I'd give it a 3.5/5 stars - good enough for the job but still a lot of improvements to be made (more about the looks than the works to be honest). Well... I guess that's all but since I am curious about something could you enlighten me please? Just drop a comment below and let us all know how high would you rate SFF 1.2 and why - I am sure I missed something too awesome to be noticed at first sight! ;)