SoftFuse Password Generator Free: Free Password Generator
SoftFuse Password Generator Free is a free password generator that helps you to create strong random passwords quickly. You can create strong passwords up to 64 character length fast. If you don't want to use the same password for all your accounts and don't have the time to think about a strong password SoftFuse Password Generator Free is the best option for you.
You can create passwords with letters lowercase and uppercase characters digits and their different combinations using this free password creator. Most of the people think about using easy passwords that can be easily figured out by other people. And you might be leaving your internet banking and e-mail account vulnerable in this way to hacking. But you can protect all your accounts by using a randomly generated long password and by using different passwords for individual account. And that's where this free password generator comes in.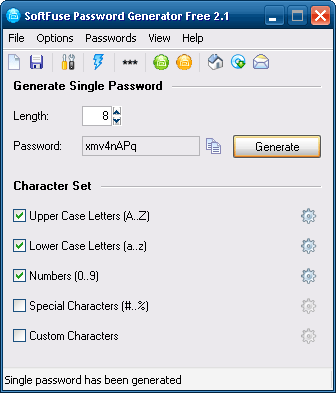 SoftFuse Password Generator is very easy to use and comes with a simple interface. You will find all the options in the main window for creating passwords and click on the generate button for generating a random password. If your job is security related or you change your passwords every now and then this free password creator is the best option for you.
Features of SoftFuse Password Generator Free:
Create passwords up to 64-character length quickly and easily
Create passwords with uppercase and lowercase characters letters digits and their combinations
Simple easy-to-use user interface
SoftFuse Password Generator Free is available for download at Password Generator's official website. It's only 548KB in size and supports Windows 98 or higher. Try SoftFuse Password Generator Free