Speed up your Windows by defragmenting your drives
One of the best way to improve performance of your PC is to defragment your hard drives. If your HDD is fragmented it will take more time to access the information. When you defragment your drives the files are stored close together and contiguously. This way you will reduce the time it takes to load programs and open files.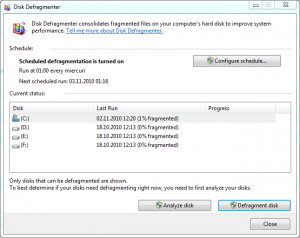 The easiest way to deframnet your drive is to use the defragmentation tool which is available in every version of Windows. You can find Disk Defragmenter in Accesories -> System Tools. Disk Defragmenter is a great tool for beginners. You can analyse the disk first and based on the information provided you can choose to defragment your drive or not. You can choose to defragment your drive is the fragmentation level is more than 10%. You can also schedule when the defragmentation to start.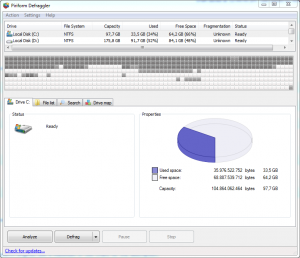 Another great and free application for defragmenting your drives is Defraggler. Defraggler does the same job as Disk Defragmenter from Windows and it adds more features. For example with Disk Defragmenter you can defragment only a partition/disk. With Defraggler you can defragment also a single file  or you can choose to defragment the file that are the defragmented the most. Also you can choose to defragment individual folders. Another great feature is available from the beta version. Now you can run boot-time defrag of system files.