Spyware Terminator: Free Spyware Removal Tool
Spyware Terminator is a free spyware remover that helps you to protect your PC from keyloggers spyware and viruses. This freeware comes with real-time protection feature antivirus and HIPS for removing keyloggers spyware adware home page hijackers malware and other dangerous threats. If you want to protect your PC from dangerous digital threats Spyware Terminator is the best option for you.
This free spyware removal tool downloads all the latest spyware signatures automatically for protecting your PC from latest spyware and other online threats. You don't have to worry about your PC all the time as there is real-time protection for babysitting your PC. The real time protection will monitor Windows objects and spyware types but will slow down your PC a little. But these features with a scheduler are what attract the novice users.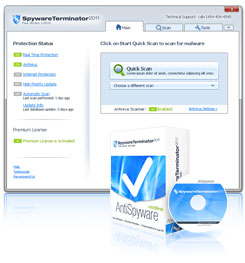 This free spyware remover is very easy to use and uses a very little PC resources if you don't use extra features. It can easily fight dangerous threats like Trojan Vundo Conficker and Mail Skinner with its powerful protection shield. If you want to make sure that your PC is spyware free you can try the advanced system scanning for scanning your PC manually. You can perform in-depth scans in process hard drives cookies registry and memory to find out all the known spyware threats.
Features of Spyware Terminator:
Protects your PC from known spyware keyloggers adware and Trojan threats
Powerful real-time protection shield
Advanced system scanning system
Spyware Terminator is available for download at SpywareTerminator's official website. It's only 744KB in size and supports Windows 7 Vista XP and 2000. Try Spyware Terminator Free