Better Password Generator!
When it comes to secure passwords there's one thing I always say to my buddies - "The only safe password is the one that you can't remember not even if your life depends on it." - only to find out from time to time that they need help with something and when they reveal some password to me the conclusion is that I was talking to the stars. Why? Well almost all of them have really stupid passwords such as their wives' names their own names or their phone numbers! At least I can say I tried right? Today I'll try to share with all the Opera users out there news on a great extension I just discovered...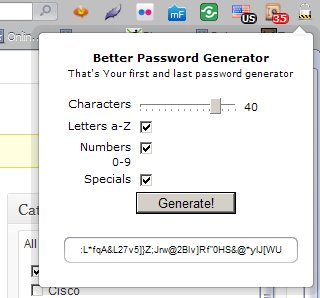 ... simply called Better Password Generator! a free piece of code for Opera users that need a bit of help to create passwords as they should be - impossible to remember! Version 1.5.1 was released on the 19th of September has 41.6 KB in size and was downloaded only 593 times so far but a rating of 5.0/5 stars after 7 user ratings should say it all don't you think?
Using Better Password Generator! is as straightforward as can be - just click the new button that appears inside the main window of your Opera browser after you install this plugin choose what kind of characters to use and the length of the password press the Generate! button and copy/paste your new password! Oh yeah one more thing - be sure to store it somewhere in a safe place since this great Opera extension surely doesn't generate passwords that easy to remember... ;)