The End of Facebook Fake Likes... or Not?!?
Facebook is fake. Is this an exaggeration? Probably but one thing's certain - those microjobs websites that should not be around at all must (also) thank Facebook for their existence next to Google and other companies that seem to tolerate fake leads and such. While I can't say I believe this is going to change anything I think it's worth mentioning that Facebook announced a change of its policy that promises to remove ads from all pages and groups that some members find to be offensive.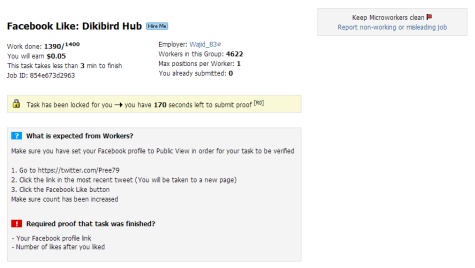 Buying Facebook Likes on MicroworkersConsidering the above we should expect less Likes sold for various obscure user-created pages while official Facebook of companies should be safe. The funny fact is that some of these obscure user-created pages may remain online so Facebook will only remove the ads from them thus improving the experience their users will have.
On the other hand we should point out one thing - Facebook will remove ads but will also continue to tolerate various controversial pages while most of them should be removed immediately. Sounds like Google to me don't you think?
"Facebook was built on the principle of real identity and we want this same authenticity to extend to Pages. We undoubtedly expect that this will be a positive change for anyone using Facebook and we look forward to helping even more people share and connect with the friends and brands they care about." Yeah right. Better take a closer look at what's happening on Microworkers and the big freelancing websites. As long as people will keep selling and buying likes and votes any changes in internal policies won't be as good as taking the fight out and stopping these things from happening outside Facebook.