Feelin' that your screen is too small? No matter how efficient may be Google Chrome's interface there's always some space to gain so today we'll take out most of that scroll bar - I guess there's nobody in love with it right? Well today we'll take a quick look at one tiny Google Chrome addon that gets the job done with style - Thin Scroll Bar is its name and I think the job should be pretty obvious already...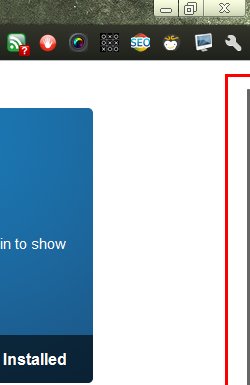 ... but if it's not and the image above doesn't help here's all you should know about Thin Scroll Bar: version 1.1 was released on the 9th of May and has an average rating of 4.64/5 stars after 240 user reviews and 9054 downloads. Free to download and use just as anyone would expect Thin Scroll Bar is currently only available in English. There's nothing to setup you only install this extension and enjoy the effect nothing more!
Since this entire article may seem a bit thin to most of you there's something extra to throw into it - click here. All these others Google Chrome extensions seem to come from the same author and follow the same approach - keep things as short and simple as possible solving one small problem at a time. Pretty good if you ask me but there's only one problem here - I simply don't feel ready and in the mood to try all of them so I'm asking for your help - which one of the extensions here blew you away and why? Thanks in advance that's all for today - have a great weekend!