Thinking About A Clean Windows Desktop?
Having a clean Windows desktop can save somebody's life one day maybe even your life and if you think I am joking think about this: instead of missing your train and having to take a bus and then die in an accident you will catch that train and arrive safely to the destination. That's the difference between being organized and wasting time that's the difference between having a mess on your computer's screen and having a clean Windows desktop!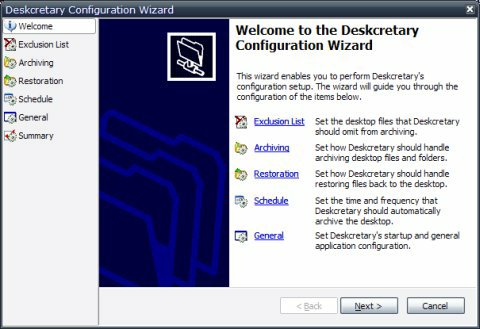 Before moving on and telling you those few words you have to read about Deskcretary let me confess something: I actually don't have a desktop on my Windows computer! I know we talked about it before but it's always good to remember that and if you missed that article no problem - it's here so take your time to check it out.
If you decide to follow my suggestion from the article I just mentioned I think you really don't need to play with Deskcretary but since I know that most Windows users have some items on their desktops this program will surely make their lives easier and - as I was saying in the beginning - it could even save somebody's life one day!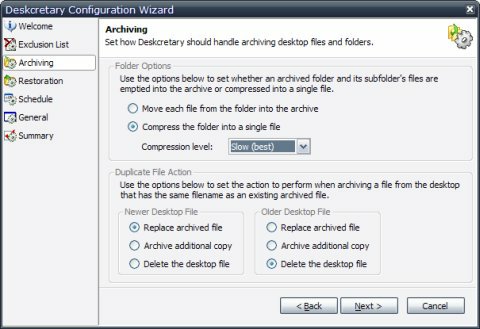 Considering the fact that I don't have any desktop items to mess with I will only go through Deskcretary's features. I hope you don't mind that because this piece of code is one with a rather limited purpose anyway and that is to archive stuff you recently thrown on your desktop and to help you make some sense of it.
How's that possible? Once you archive those items (a scheduling feature is present don't worry as well as quick archiving via the menu showing up when you right click the system tray icon of the program) you can open the Deskcretary Explorer and go through your stuff nicely ordered by date type or other criterion (you can even create an exclusion list so various items won't be archived). Pretty cool don't you think?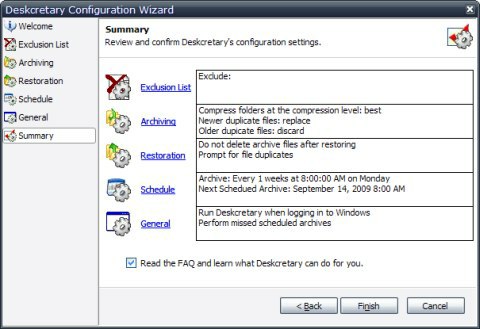 Setting up your options is very easy since you'll have a wizzie by your side so I think that if you really need a clean Windows desktop you can choose this way or my way (the "no desktop" way I mentioned earlier) because despite the fact Deskcretary didn't even reach version 1.0 yet it looks like a pretty solid freebie to me. Sure I may be wrong but I am sure you'll drop a comment to make things right if this program doesn't fulfill your expectations right? ;)