ThreatFire AntiVirus: Free Behavior Based Spyware Protection
ThreatFire AntiVirus is a free antivirus software that can protect your PC from spyware and malware with its behavior based protection. Antivirus software usually removes threat from PC after detecting their signature. But this antivirus software is different and is designed to provide you protection from spyware and malware where the usual signature based antivirus program fails.
This free spyware removal tool looks for threat like adware spyware malware worms viruses and other similar things. This freeware will try to observe the behavior of programs installed in your PC and will take actions instantly if the find anything suspicious. If you are worried that this freeware might remove something important from your PC you can create a system restore point. If you want to protect your PC from unknown viruses and is looking for a behavior based antivirus program ThreatFire Antivirus is what you are looking for.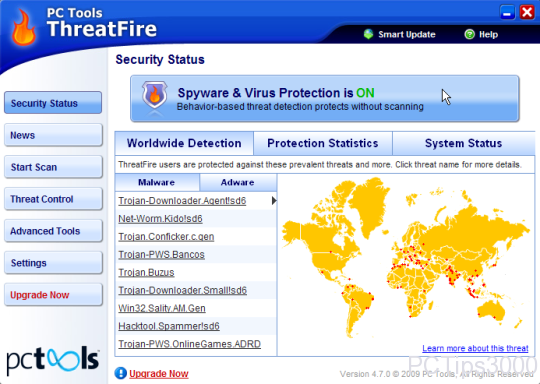 This free spyware removal tool is very easy to use. The interface is attractive and you can check the other pans of this freeware while the IntelliScan is going on. A complete scan will take about 15 minutes but you are free to check the other options of this freeware while the scanning process is taking place. This free antivirus software provides real-time protection but you won't notice much change in the speed of your PC when this software is running.
Features of ThreatFire Antivirus Free Edition:
Detects programs with suspicious behavior and takes necessary action
Create system restore point before removing files
Enjoy real-time protection without slowing down your PC
ThreatFire Antivirus Free Edition is available for download at Threatfire's official website. It's only 8.6MB in size and supports Windows. Try ThreatFire Antivirus Free Edition Free