Top 5 Free Video Converters
How many times has it happened that you downloaded a video and found out that its format is not supported by your video player? Free video converters can really help you out in converting the most obscure video formats into popular formats so that you can easily view them on your favored media player.
5. FVD Suite 2.6.4
Featuring on no.5 in the list of free video converters is the FVD Suite 2.6.4. This freeware is really more than just a simple video converter. The FVD Suite is capable of not only converting video formats but can also download videos from almost all video sharing websites. It can also record your screen activity but can only do it if you use Mozilla Firefox or Internet Explorer. The best thing about it is it's easy to use interface as even novices can use it without even having a look at its guide.
It can convert video and audio files to AVI WMV MP4MOV FLVVOB 3GP and SWF formats.
Try FVD Suite 2.6.4
4. Quick Media Converter
Quick Media Converter is another excellent video converter. It is very easy-to-use and by dividing it into two modes i.e. Easy and Expert it facilitates both novices and professionals. In the 'Easy Mode' you can easily add the file and choose the format you want to convert it in and then hit the Convert button. However the 'Expert Mode' isn't as intuitive but allows you full control over bitrate audio synchronization and FPS. You can also record your desktop activity while using Quick Media Converter.
It can convert video and audio files into all the popular formats like FLV AVI MPEG 1-4 iPhone/iPad DIVX 3GP and many others.
3.  Super Video Converter
Super Video Converter features at no.3 in the list. It is perfect for users who want more options while converting a file. The interface is intuitive but is not as user friendly as some of the other free video converters available. You can also rip out the audio from a video for easy-listening with Super Video converter. You can convert image formats too with this freeware.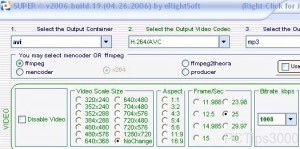 It can convert files to 3GP 3G2 ASF AVI FLV SWF MKV MOV MP4 and WMV among others. It is the variety of options which makes the software feature at no.3 in the list.
2. Any Video Converter
It makes the list at no.2 with its user friendly interface and intuitive layout. It simply converts like its name says. If you want a simple video converter then there aren't many who can better the Any Video converter. It provides a step-by-step guide as to how to convert videos. It also allows its users to do simple editing in the videos burn the videos to a CD or DVD and download videos from YouTube.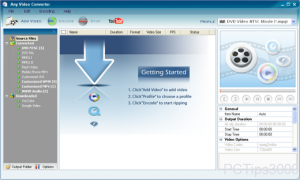 It can convert videos into all the video formats available including AVI FLV SWF 3GP DVD etc.
1.Format Factory
There is no doubt that the best overall video converter is Format Factory. The freeware is really the best as it is easy to use provides a whole host of options offers batch conversion and converts files into all popular and obscure formats. Â It supports all the MP4 files like Android Blackberry iPod iPhone and PSP. You can even rip DVD to video file and Music CD to audio file and burn in subtitles from mkv.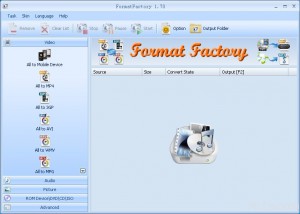 Format Factory also converts images along with videos and audios.
Try Format Factory