Clean Your PC with SlimCleaner
SlimCleaner is a free system optimization software that helps you to optimize your PCs performance by using crowd sourcing. You can expect to get all the latest information about toolbars software and various services from the cloud and can optimize your PC in the best way possible. You will find active feedback for installed software on your PC and will be able to update or change them after reading them.
This free system optimizer works like an all in one tool as it has access to contributive cloud where you can expect to get latest information on software toolbars and other things. You will get information from real-time community feedback and reviews from the cloud which can help you to find the right software for your PC. Once you start using this free system optimization software and start scanning it will help you to understand which programs are good and which ones should be deleted.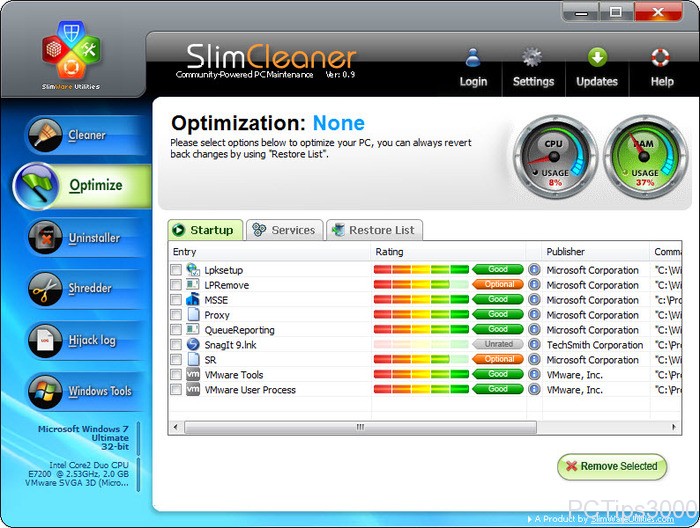 This free system optimizer comes with attractive and intuitive user interface. You will find optimize Hijack log cleaner and other Windows Tools options right in the main window. If you are confused about how to use this software you will find manual video tutorials and other help online. You can let this freeware analyze your PC first to see if there is any unnecessary item in your PC. After analyzing you can remove the unwanted item from its produced list. You will find feedbacks and community rating on programs which will help you to decide which software is good. If you are an advanced user you will find the Hijack log section useful.
Features of SlimCleaner:
Get latest information on toolbars software and services installed on your PC
Clean or uninstall unnecessary software from your PC
Scan suspicious files
Speed up your PC
Removes history temporary files and other junks
SlimCleaner is available for download at SlimCleaner's official site. It's only 5.34MB in size and supports Windows 7 Vista and XP. Try SlimCleaner Free