Top 5 Worst Facebook Apps
Like it or not Facebook's still hot and as far as I can imagine it won't go down anytime soon despite the severe drop in quality of the users that want to be our friends the strange decisions of the team behind it (yes the new timeline still sucks!) or those countless applications that are incredibly popular so popular that makes me shiver thinking about that "Idiocracy" movie and the fact that one day people will see it and it will be just as Jules Verne's novels - a disturbingly accurate representation of the times to come...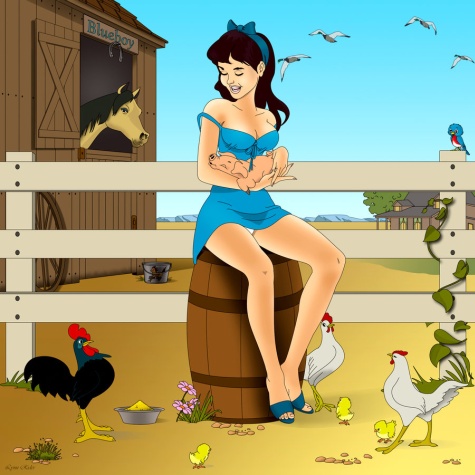 Imaginary Farmville Pinup...... so let's stop wasting time and get straight to it - here's my Top 5 Worst Facebook Apps available right now on the 16th of June 2013 with some of them being popular & annoying for more than just a few months... sometimes much more unfortunately.
Number Five: Social Empires - I really love strategy games but this isn't actually there. Hey there's Age of Empires online why even bother with such silly time wasters lie Social Empires??? Beats me but feel free to drop a comment if you have the slightest idea.
Number Four: Twoo - so we have some MySpace clone that loads inside Facebook and offers to spam all our friends. How wrong is that? If you're into using a social network inside a social network you may as well create a WoW character to play WoW on a virtual PC& Battle.net account while you're playing WoW on your real life PC and Battle.net account. Twoo... excuse me too twisted for me I'll pass.
Number Three: Zoosk - it's not the fact that I have something against social networking but with descriptions that have no trace of good sense yet "over 5 million users" a combo that leaves me speechless. Hear this - "Our Behavioral Matchmaking™ technology connects millions of singles every day!" - nothing less than millions every day with a user base of 5 millions. Errr... same millions over and over again???
Number Two: Happy Family - this is sick. Seriously. "Experience the joy of family life" goes the description. You want to experience such a thing? Then get a damn family! In the real life you know...
The one and only ultimate and supreme Number One: Farmville of course! It is so wrong in so many ways that I simply have no idea where to start. The most sad thing about it is in my opinion that a lot of intelligent people are wasting time with it and sometimes it spreads like a plague from one to another. No I don't need any virtual cows or any virtual cabbage and it just doesn't matter if we're talking about Farmville Farmville 2 or Farmville 666.
Oh yeah one more thing before we part ways - the image attached to this article was created by Lynn Rider. Visit his page and you won't regret it! ;)