Transfer Files Securely and for Free with FileZilla 3.4.0
FileZilla is an open source application that is precisely used for transferring files to and/or from the servers. The source or destination servers can be located geographically apart and with the help of FileZilla users can communicate with them and transfer their files as if they were sitting just next to the remote computer. The application is also capable of transferring files from a machine to another using secure channel for FTP. This feature assures users that their files are getting transferred through protected media and the percentage of risk is more or less zero. The application is mostly used by the clients who are registered with any web hosting services. They use FileZilla to upload their websites on the servers in order to publish them on the internet.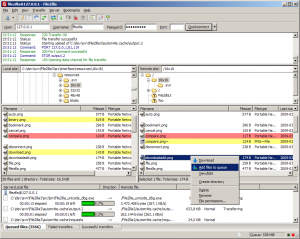 Pros
Since the application is open source anybody can download it from the official website.
The software is available for multiplatform support and Windows only.
Many new features are included with the latest release of the application which were not available in legacy versions.
A complete tutorial is provided on the official website of the application which is indeed very helpful for the people who are new to FileZilla.
Cons
No cons are found or experienced while using FileZilla FTP client till date.
Download Link: http://filezilla-project.org/download.php?type=client