Turn Your Laptop into a Wi-Fi Hotspot with Connectify
Connectify is a free wireless networking software that helps you to share your internet connection with other Wi-Fi enabled devices by turning your laptop into a hotspot. This free wireless networking software is specially designed for Windows 7 PCs.  It uses the built-in Wi-Fi card that comes with the laptop for creating a Wi-Fi hotspot.
People can share any active internet connection including a cellular card or a cable modem. Once you have turned your laptop into a hotspot you will be able to use internet from your Wi-Fi devices including your smart phones gaming systems laptops and even music players. They will be able to join this hotspot just like you access to any Wi-Fi access point. Moreover you will be able to keep your connection secure by adding password. It's very easy to turn your laptop into a hotspot with this free wireless networking software.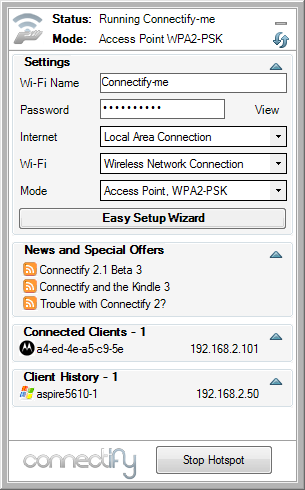 With this free wireless networking software you can share expensive airport Wi-Fi with other people who have Wi-Fi device or you can create a hotspot in a hotel room or dorm room. You can also extend the range of your home router in this way. There was a problem with the installer earlier as it was flagged by Microsoft Security Essentials but it's fixed on the latest version. The latest version also supports a lot of VPN software and its resource and memory handling is also better.
Features of Connectify:
Turn your laptop into a Wi-Fi access point
Better resource and memory handling
Supports a lot of VPN software
Connectify is available for download at Connectify's official website. It's only 2.34MB in size and supports Windows 7 only. Try Connectify Free