Manage Your iDevice with i-FunBox
i-FunBox is a free file manager for iPhone iPod Touch and iPad that helps you to manage your iDevice in a simple and easy way. You will find the file manager similar to Windows File Explorer but it's much more efficient and user friendly. Usually a user has to open iTunes for managing his iDevice but this free file manager for iPhone can be a great free alternative to iTunes.
This free file manager fully supports iOS 4.0 so you don't have to worry if your iDevice is compatible or not. One of the best features of this free iDevice file manager is its one stop app installing service. You can install .ipa packages safely with its one-stop app install feature. You can install purchased apps with this free app manager for iPhone without even jailbreaking it. You can create a backup of installed apps or uninstall them in batch.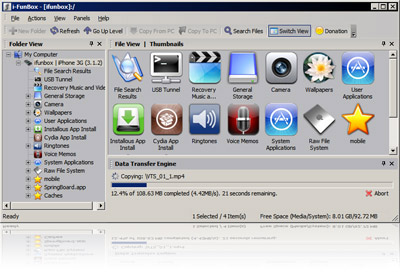 If you want to use your iDevice as a USB portable disk you can do it with this alternative to iTunes. The latest version supports iOS 5 and iPad 2. You will be able to install apps 3x faster now. I am personally using it for my iPod Touch and I believe it's a great alternative to iTunes for people who don't want to use iTunes.
Features of i-FunBox:
Manage your iDevice in an easy and friendly way
Install .ipa packages with its One-stop app install feature
Create backup of your installed apps
Use your iDevice as an USB portable disk
Export movies and music on iDevice
i-FunBox is available for download at i-FunBox's official website. It's only 2.65MB in size and supports Windows 7 Vista and XP. Download i-FunBox Free