Update Checker: Free System Utility for Updating Programs
Update Checker is a free system utility that scans your PC for all the installed programs and then checks FileHippo.com to see if there are any updated releases available. All those updated released are displayed to you in your default browser and gives you the option to download.
If you want to make sure all your installed programs are updated and don't want to use old programs Update Checker is the best option for you. Most of the programs comes with automatic updaters now a days and alerts you whenever there is a new and updated version available. But if you want to take this control in your hands you should try Update Checker. This free software updater uses FileHippo's file database for checking new software releases so you don't have to worry about updating your programs once you start using Update Checker.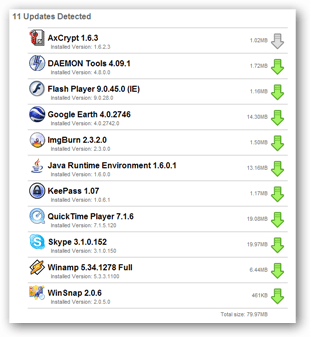 This free software updating utility is very easy to use and it appears as a small icon on your system tray when active. This freeware is not going to check all the installed apps and will check media players instant messaging clients and browsers only. There is no help file available but the program actually does not require one. If you want to keep all your installed applications up-to-date you are going to love this free system utility.
Features of Update Checker:
Scans your PC for installed software and alerts you if there are any updated releases available
Easy-to-use simple user interface
Update Checker is available for download at FileHippo's official website. It's only 247KB in size and supports almost all versions of Windows starting from Windows 98. Try Update Checker Free