Halloween Windows 7 Themes From Microsoft
While I can't say I am really crazy about Halloween it's always great to see new stuff released on this occasion no matter if we're talking about T-shirts mouse pads games books or even Windows 7 themes. As you probably know already I'm not crazy about Windows 7 either although I do own a Windows 7 laptop that runs this OS as it should but I must also confess that I never cared much about the way my laptop's OS looks - I just messed with a few settings back when I got it and that's it! On the other hand I am sure a lot of people care about the looks of their desktops and if given the chance they wouldn't miss a Halloween Windows 7 theme coming straight from Microsoft...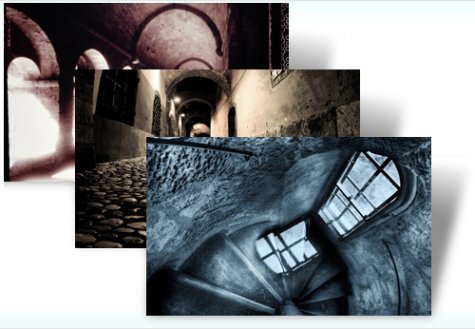 ... especially when we're talking about two Halloween Windows 7 themes not one! The official mumbo-jumbo is pretty straightforward going exactly like this: "Dark abandoned rooms mysterious cobwebbed passages spiral staircases descending into shadows and ancient arches leading to the unknown: an atmospheric free theme for Windows 7." Since the screenshots above should say it all I guess there's nothing else to add about these two Windows 7 interface sweetners right?
In case you're still stuck with Vista or that good old Windows XP then it's bad news - according to the official page(click here to visit it) "Windows 7 themes can only be used in Windows 7 Home Premium Professional Enterprise or Ultimate editions." Sure you can always extract only the wallpapers and then use them on a Windows XP/Vista/Linux/Mac computer but that would turn our Halloween Windows 7 themes into Halloween desktop wallpapers and nothing more. Well... I guess that's it - enjoy this find it doesn't happen too often to see Windows 7 themes released by Microsoft themselves! ;)