Vienna 5 Transformation Pack
Windows XP transformation packs became really popular after Vista arrived especially to those people with weak hardware but a strong will to have something looking like Vista. To be honest I simply don't understand those who considered the Aero interface such a big deal as long as various Linux distributions and even Windows XP tweaking tools delivered similar or sometimes even better results. Anyway today we'll take everything a few steps forward in time and talk about the Vienna 5 transformation pack for... Windows 7!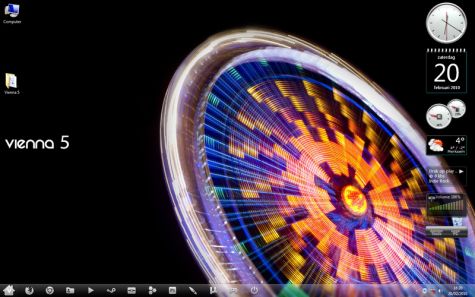 About three weeks ago the Windows 7-exclusive Vienna 5 transformation pack was released the last step before the future version 6 of the package. That one will be adding "an unique Rainmeter suite an official Vienna 6 experience visual style and of course the new name" and the name will turn from "Vienna transformation pack" to Vienna Experience. For now Vienna 5 can be downloaded from this page absolutely for free.
One more thing - in case you're still using Windows XP and want to spice up its visuals you should use Vienna 4.1. The download link is available on the same page I mentioned above. That's all folks! Have a nice weekend and a beautiful Windows experience thanks to Vienna I hope... ;)