View Graphical Representation of Processor's Idle Time in Windows 7
For any computer running any operating system it is necessary that its processor remains idle most of the times. In other words the more the processor remains idle the more optimized the computer performance is considered. You cannot protect your computer from virus attacks entirely and neither can you prevent your computer from getting overpopulated to reduce its performance by the time. However with some Windows 7 built-in features you can regularly monitor your processor usage and its idle time which can help you assess as when your computer needs hardware upgradation or reinstallation of operating system. You can use Performance Monitor Counters to get the idle time record of the process of. You can add and use this counter by following the steps given below:
Logon to the computer with the administrator account and click on Start button.
On the start menu right click on Computer and from the appeared menu click on Manage.
From Computer Management snap-in expand Performance and expand Monitoring Tools.
On the displayed list click on Performance Monitor and from the right pane click on plus (+) sign to add the counters.
On Add Counters box under Available counters list choose Processor category to expand and from the available list click on % Idle Time.
Click on Add button and finally click on Ok button to accept your configuration.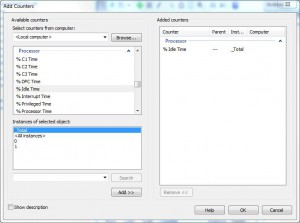 Back on the main window you will find the graphical representation of the idle processor time in %.