Virtualize Network Setup with Virtual PC 2007
Microsoft Virtual PC is a freeware application developed by Microsoft. The application can be downloaded from the official website and can be used to virtualize the network setup. Virtual PC helps in reducing hardware costs by creating several virtual machines within one physical machine and allowing administrators to connect them to the entire network infrastructure. Also with the help of Virtual PCs administrators can eliminate the requirement of excessive office space which physical PCs mostly occupy. However it is recommended that virtual PCs should only contain the operating systems and servers which are not expected to face extreme workloads. Examples for these servers may include file servers DHCP servers (for small to medium scale industries only) etc.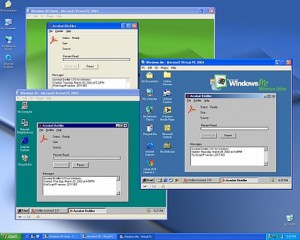 Pros
Virtual PC is a small application (approximately 30 MB in size) and therefore can be downloaded in no time.
Because the application is lightweight it is best suited for lab and test environments.
User interface of Virtual PC is very simple and therefore it becomes easier for the administrators to work with the application.
Virtual machines created in Virtual PC can also be mounted on Virtual Server 2005 (which again is another virtualization application by Microsoft).
Cons
Because the interface has few controls Virtual PC does not offer more flexibility as compared to other virtualization applications.
Download Link: http://www.microsoft.com/downloads/info.aspx?na=46&SrcFamilyId=04D26402-3199-48A3-AFA2-2DC0B40A73B6&SrcDisplayLang=en&u=http%3a%2f%2fdownload.microsoft.com%2fdownload%2f8%2f5%2f6%2f856bfc39-fa48-4315-a2b3-e6697a54ca88%2f32+BIT%2fsetup.exe