Voice Recording Software Done Right
I am sure that most Windows users tried the sound recorder included with their OS to record their own voices but I am also sure that only a few ended this and were happy with the result. No it's not the fact that the recording software seems to be the same since the early days of Windows 3.1 and it only can save WAV files because there are even worse issues with it like the limited sound clip length. Anyway if you don't want a complex tool like Audacity then let me show you a piece of code that seems to be the perfect voice recording software for beginners...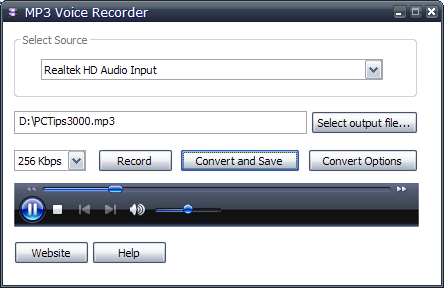 ... namely MP3 Voice Recorder a free voice recording software for Windows that does exactly what its name says and nothing more! Well you can say it does a bit of extra stuff if you think about the additional formats available but the big problem is that this program records your voice as one MP3 file and converting a 256Kbps audio stream recorded using this format into a 512Kbps FLAC file won't bring any quality improvement unfortunately.
After installing the program (no problems during that stage at least for me) all you need to do is select your recording source name the output file (unfortunately only the MP3 format is available here as I was saying earlier) choose the bitrate desired (16Kbps to 256Kbps) and then press the Record button.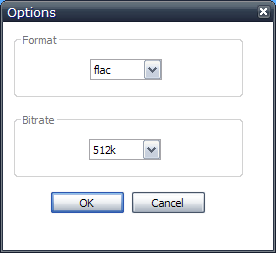 Once you press that button again (after starting the recording process the text on it will turn to Stop) the recording is complete and you can move on and convert the file to one of the following formats: WAV AAC WMA FLAC M4A and AC3. I see no reason in adding a 512Kbps and losless formats to a program that will convert a MP3 file to that format... but that's it - like it or not this is how MP3 Voice Recorder does things.
More than the above there's another thing I hate - the interface! Sure it uses a very straightforward approach and it only has a main window but why in the world did they choose to add that Windows Media Player-like controls bar? I have no idea but I can tell you that this choice ruined the entire interface (anyone at prvsoft.com ever heard about interface consistency?) and removing it would be much much better. Seriously!
At last if you're waiting to find some documentation when pressing the Help button... don't! If you want to have a good laugh go ahead and press it... but don't expect for a PDF user manual to pop up alright? Good!
Ladies and gents this is it - if you're looking for a voice recording software that does exactly what its name says and nothing more MP3 Voice Recorder is a good freebie to help you get the job done but if you want to record some professional quality voice acting or something like that go try some serious applications! ;)