How To Take A Screen Shot
Today we'll take things from a completely different angle than usually and I have a serious reason to do that. What kind of reason? My sanity that's the reason! Serious enough? No don't worry I won't go crazy if I write about some other interesting program but I was very close to that point yesterday when trying to explain to a friend of mine how to take a screen shot! Believe it or not there are people who have been using computers for years and have no idea how to take a screen shot when needed!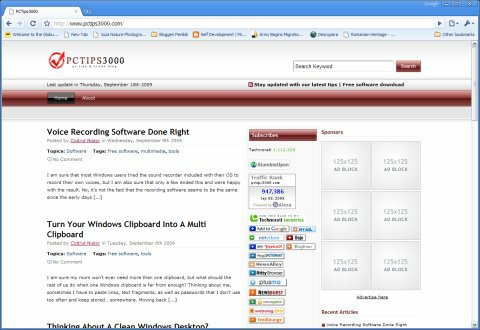 First of all let me say that no matter the operating system you're using the Print Screen key is worth its weight in gold. The big difference between Windows XP and Vista is that most Vista versions come with a tool built specifically for taking screen shots while XP doesn't have such a thing. Anyway taking a screen shot is much easier than those who haven't done it so far may believe and if it takes more than 1 minute to do that then you may have a problem...
How To Take A Screen Shot In Windows XP
1. Press Print Screen to capture the entire screen or Alt+Print Screen to capture only the active window.
2. Open the Run window (Win key+R) type in mspaint and then press Enter or choose the old way - Start> All Programs> Accessories> Paint.
3. Once Paint opens simply press Ctrl+V to paste the contents of the clipboard (your screen shot obviously); the old way is to open the Edit menu and click on Paste.
4. Press Ctrl+S and choose the destination where you want to save the screen shot. Beware that default image format is BMP and the resulting file can be pretty large so be sure to save as JPEG GIF or PNG (TIFF files are also pretty large).
In Windows Vista Home Basic you'll be doing about the same thing and no matter what Windows OS do you have there are plenty of free image capture tools to play with for example the one coming with PhotoScape.
How To Take A Screen Shot In Windows Vista
If you don't have Vista Home Basic then your version surely has the Snipping Tool so here's how to use that one...
1. Open the Snipping Tool simply by typing snip in the Search Box and clicking on its name once it appears (if you have similar programs for example a game called Sniper those will also be shown).
2. Click the arrow pointing down in the right side of the New button to choose the selection mode (free-form rectangular window and full screen capture modes are available).
3. Select the area you want to capture and then work on your image if you consider it necessary.
4. When everything's done save your work (PNG GIF JPEG and MHT files can be saved by Vista's Snipping Tool) or send it through email right away!
How To Take A Screen Shot In Mac OS X Linux or any other OS
If you're using anything but Windows things should be about the same. After all the Print Screen key also works in Linux and Mac OS X... and I am sure that if you're using anything but Windows most chances are that you know how to take a screen shot already right?
These being said I only have one question remaining: how do you take screen shots? ;)