Why Not Be Environmentally Friendly?
I don't know if it's my age but I think more and more about the effect my actions have on the environment especially the way I live and work each day and the products I use. Just as a side note I'll be 30 next year so I guess I'm not that old after all... and I must also confess that I always tried to be as environmentally friendly as possible. For example today I figured out that my computer uses about 3 times as more energy as one laptop when browsing the Web and writing articles... and this isn't about the money it's about thousands of people discovering this and doing the right thing!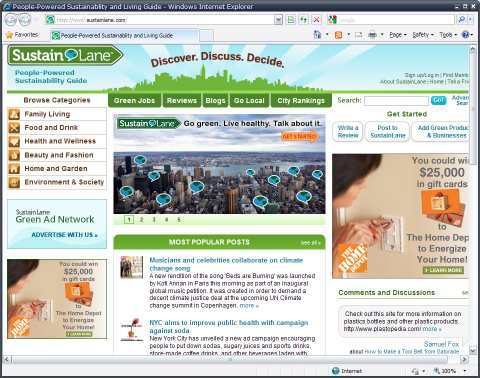 There are plenty of online resources to talk about and probably most of them will be more useful to PC users than Sustain Lane but I think that every computer user should be aware of what can be done to protect the environment. Even more than that we should try to do our best to do what it takes to protect the environment not just be aware of that. In the end it's not about money but the legacy our children will get...
... and if we leave computing aside I can confess that I didn't take a single chemical pill in the last 5 years. Sure I had some minor health issues like a cold here and there nausea (yeah alcohol-caused I shamefully admit that...) but I always managed to solve those problems with 100% natural methods or pills. The Health and Welness section of Sustain Lane delivers a lot of useful info for those who want to "keep it green" and no matter the remaining parts of the site this is surely a solid reason for me to bookmark it!
More than just being green as a consumer you could try to get a green job since I am sure this field will grow in the future. Even now there are some interesting jobs available such as "Wind Energy Project Manager" or "Wind-Turbine Technician Program Coordinator" but there are plenty of jobs available on the site now (1024 it seems). Unfortunately they seem to be only jobs available to US candidates...
The best part of the whole site is that you get a lot of user reviews of green stuff including organic foods vitamins herbs supplements clothing and so on. Just go here and you'll have them all one click away!
I love this site. It's well done and has exactly the information today's consumer needs to wake up and realize there's more than just getting the smallest price and filling the belly. After all "we are what we eat" and if we take a look at the big picture "we are what we use" after all...
... and to end this in the computer world let me give you something to think about: do you really need the upgrade you were thinking about? It's not about the money it's about lowering resolution/details to play that fresh game versus upgrading your computer and adding some more junk to this poor planet... THINK!!!