WinPatrol: Free Spyware Remover
WinPatrol is a free spyware remover that helps you to protect your PC from cookies adware spyware keyloggers worms and other dangerous threats. This freeware cleans Startup programs ActiveX Taskbar and browser. If you are worried about your PC's safety and want to protect it from viruses and other threats WinPatrol is one of the best options you can think of.
This freeware monitors your PC and exposes threats like worms adware cookies spyware keyloggers and other malicious apps installed in your PC. If you have installed a lot of apps in your PC and now they are controlling your PC this free spyware removing utility will help you to get back in control of your PC. You will get to know about the programs installed in your PC and if any new app is installed without your permission.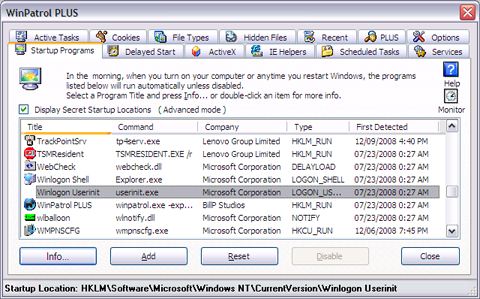 This freeware is really easy to use and comes with a simple user interface. This free security software doesn't scan your hard disk like other apps. Instead it will take snapshot of your critical system resource and will let you know if there is any changes that happened without letting you know. There are 13 tabs available on the main window of WinPatrol Active Tasks Cookies File Types Hidden Files Options Recent Plus Startup Programs ActiveX Delayed Start Scheduled Tasks IE Helpers and Services.
Features of WinPatrol:
Know about the programs installed in your PC
Get alert when any changes occurred in your PC without your knowledge
Protect your PC from cookies adware keyloggers spyware worms and other malicious apps
WinPatrol is available for download at WinPatrol's official website. It's only 803KB in size and supports Windows 7 Vista and XP. Try WinPatrol Free