Opera 11.52 Changes & Performance
This article's subtitle should be "Firefox 7 sucks. Seriously." but since we're only using titles here and nothing more be sure to keep that in mind - this article is about Opera 11.52 but I also messed with Firefox 7.0.1 a bit and I really got scared of what I discovered. Anyway the idea is that Opera just got updated from 11.51 to 11.52 a few hours ago and to make it all even more interesting Futuremark released a brand-new version still in Beta stage of its popular browser test Peacekeeper so...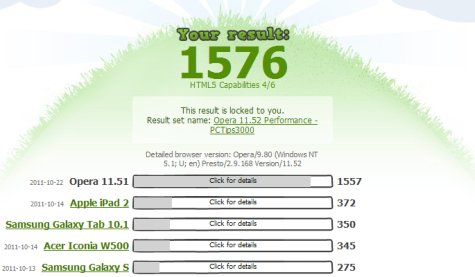 ... take a look at the image above and figure it out for yourself - from the score of 1557 obtained with Opera 11.51 Opera 11.52 jumped just a bit reaching 1576 points. The test was run using my old Windows XP computer and with a quite a few tabs open so this makes the Firefox 7.0.1 result even more surprising - I didn't save any screenshot for that but with only two tabs open Firefox 7.0.1 didn't even manage to score 800 points! I am sure some Firefox fanboys will go for my throat on this one but there's no need to bother - before doing that just install Opera 11.52 on your computer then get Maxthon then run the benchmark on all three!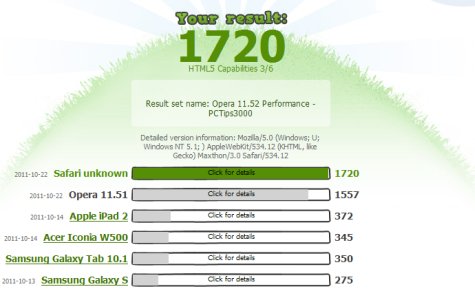 Why Maxthon? Well I didn't bother messing with Chrome once again but Maxthon really surprised me since this one's still faster than Opera and in case you still didn't take it for a spin surely a browser to check out as soon as possible!
Oh yeah - Opera 11.52 new features? Nothing new just a few fixes including a bug that I remember encountering more than a year ago - crashes that occurred while downloading via BitTorrent have been finally fixed! For the whole list of changes go take a look here. That's all folks! ;)