WinSCP: Free FTP, SFTP and SCP Client
WinSCP is a free FTP software that helps you to copy files between a remote PC and a local safely using Secure Shell technology. This free FTP software can copy files between a local and a remote PC using protocols like SSH SCP and FTP. If you are looking for a secure free FTP client for your PC WinSCP is the best option for you.
This freeware is mainly created for transferring files between a remote PC and a local PC. But this free FTP client can be also used for some other file actions if you want. When copying files you can select between FTP SFTP and SCP transfers and several languages if you want. One of the attractive features of this free SFTP client is you will be able to export its complicated preference settings with just one click. WinSCP transfers files securely and quickly so you don't have to think about other programs once you start using this freeware.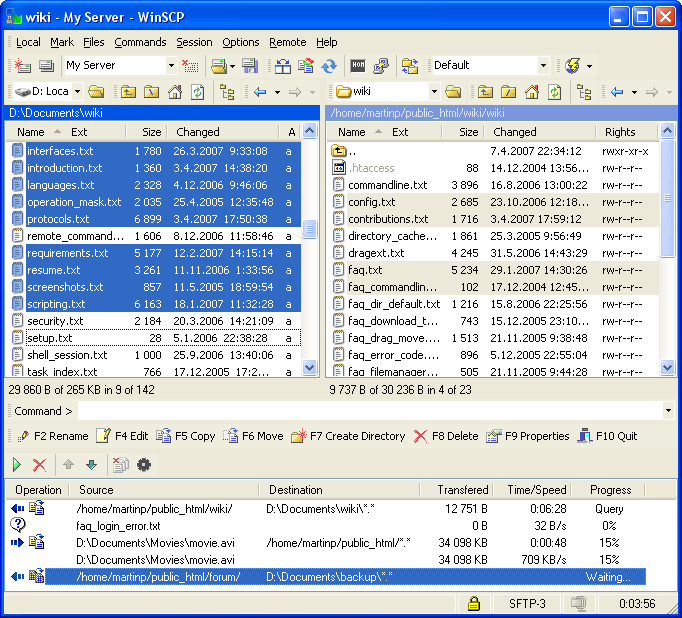 This software comes with a simple easy to use user interface and the main thing you are going to love about its interface is its simplicity. When installing this free FTP software it will try to install an additional software called Jing. But you can cancel it if you want. You will also get to choose two different main interface styles an explorer interface and a commander interface.
Features of WinSCP:
Copy files between a remote and a local computer quickly and securely
Works as a SCP SFTP and SCP client
WinSCP is available for download at WinSCP's official website. It's only 2.89MB in size and supports all versions of Windows. Try WinSCP Free