WordWeb: Free English Dictionary Software
WordWeb is a free English dictionary software that helps you to check synonyms the definition and antonyms from almost any program without going online. With this freeware's hotkey support you can take your cursor on a word you don't understand and use the hotkey to get all the necessary information on that word. If you read a lot of books in your PC or laptop and don't want to open your browser for searching the definition antonyms and synonyms this free dictionary software is what you are looking for.
This free thesaurus program comes with more than 150000 root words with 120000 synonym sets. This freeware also comes with many proper pronunciations nouns and usage tags. You can check synonyms definition and antonyms both offline and online with this freeware. The features you are enjoying with this freeware are worth paying but you are getting all these features for free.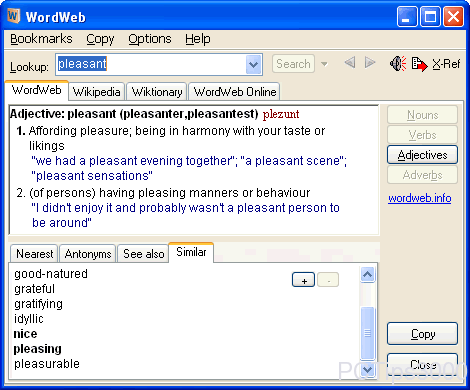 The interface of this freeware is similar to almost any expanded word processing software. So you won't face any problem while using this freeware. You can type any word or term in the lookup dialog box and you will find the definition in the top pane of the interface. There are some tabs in WordWeb that will take you to Wiki page for quickly viewing Wikipedia encyclopedia references.
Features of WordWeb:
Find the definition antonyms and synonyms of any given word
More than 150000 root words and 120000 synonym sets
Proper pronunciations nouns and usage tags
WordWeb is available for download at WordWeb's official website. It's only 18.07MB in size and supports Windows 7 Vista XP and 2000. Try WordWeb Free